Debuting at AME Roundup last January, the "soft launch" of Lantern was anything but soft. With giant projections on the sides of nearby buildings and miniature mining lanterns trading hands across the floor, the buzz around the young start-up's interactive booth was as energetic as its name.
Attracting interest from an equal mix of drilling, mining and mineral exploration companies, Lantern brings some much-needed transparency to a traditionally messy, paper-based enterprise. Illuminating every aspect of the drilling program in real time, the software was envisioned as an evolving set of tools to help both drilling and their clients work better together. As it approaches its official launch in March, it seems to have accomplished just that. But how did all this come about?
"Having worked with a drilling company to develop their own software over many years, we were amazed at the lack of digital solutions around the drilling function specifically," says Andre Sonnichsen, Lead Developer at Lantern. "At the time, there was a wealth of software for everything from geological modelling to mine management. But short of a basic spreadsheet, there wasn't a single good tool for drillers to capture what was happening at the rig, or for their exploration clients to understand how things were progressing and what it was costing them."
With a handful of competitors today, Sonnichsen is optimistic about the future. "Competition in this space only proves the demand for increased transparency, collaboration and real time project tracking. If drillers, mining and mineral exploration companies could access these tools easily and affordably, it's hard to imagine why they would ever turn them down." And while there are a few competitors to Lantern out there, most are priced as enterprise-class solutions; taking months to implement, while ultimately relying on the same data entry process as the spreadsheets they were meant to replace.
Lantern was envisioned a bit differently. Designed to accommodate the real-world conditions that drillers face in the field, the platform takes an intuitive, step-by-step approach to minimize errors and speed up data entry. Everything has been accounted for, including the meaty fingers of the Foreman using the software. To provide the driller's head office and their exploration clients with the information they need, the team at Lantern focused on two key objectives: to provide users with an immediate visualization of their hole progress and costs, as well as to allow all parties to react faster and make better decisions.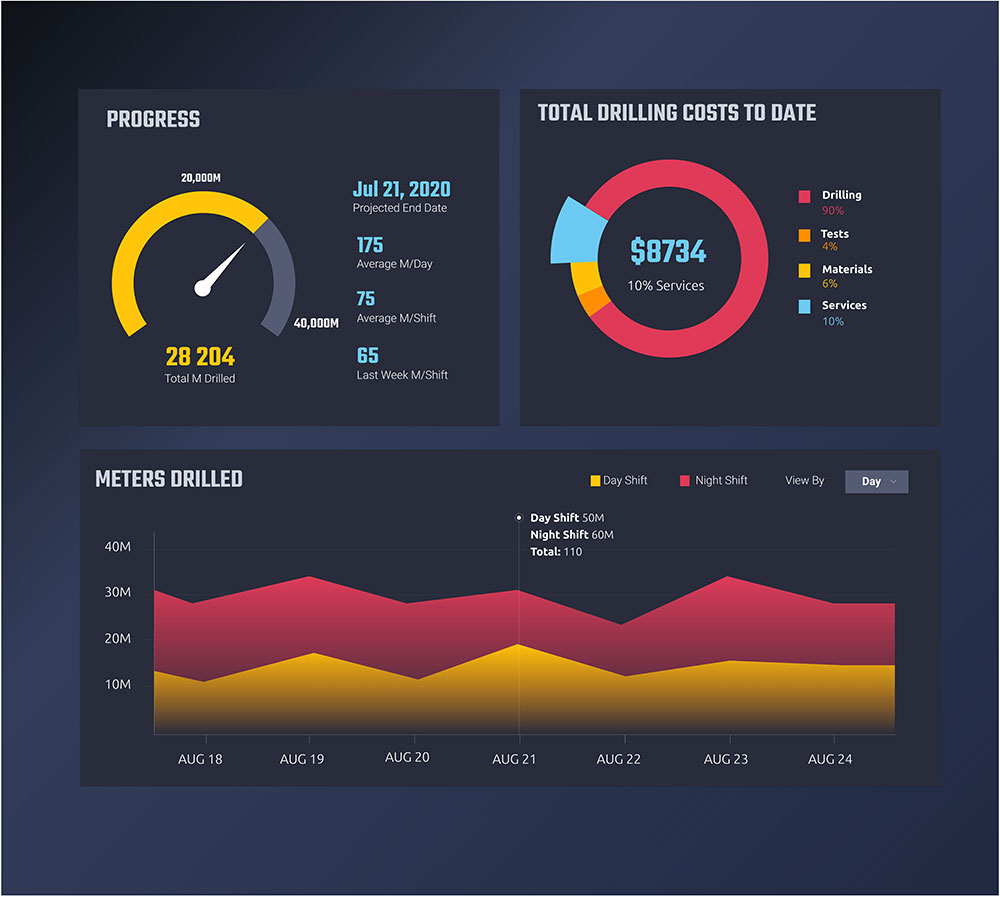 A quick tour of the platform underscores just how powerful, yet simple, a tool like this can be. Greeting you when you log in, a visual dashboard gives you an instant indication of your project's overall health. This includes your project status and projected completion date, a complete breakdown of your costs, the current average cost per metre, and even the daily metres drilled by both day and night shifts over the course of the project. Drillers and exploration companies can generate reports on virtually every aspect of the drilling program, the controls are obvious and intuitive, and the tools that feed those reports are long overdue.
For drilling companies, this includes being able to log timesheets for every shift, along with services, tests and materials used, quickly and without any errors. "From chicken scratch to giant spreadsheets that don't add up correctly, we've pretty much seen it all," says Ron Konst, Lantern's Head of Client Support.
"As a geologist myself, you can see the challenges on both sides. From the perspective of the driller, you're trying your best to capture the cost of every crew member, service, and consumable over the course of a long, potentially grueling shift," he says. "You're shackled to a system where it's easy to make mistakes. Things get entered incorrectly, costs get overlooked, and the exchange of information from the foreman to head office, then back to me for review, then over to my head office – it's a long, convoluted process that plays out like a bad game of telephone."
In the meantime, drilling companies have to contend with high burn rates and slow administration, when they could actually be getting paid sooner. "There's no reason why a timesheet couldn't be approved a day later," says Konst. "It's just a matter of getting that timesheet to the right people while the day is still fresh, before everyone starts remembering it differently." As Konst is quick to remark, the time spent between working a shift and reporting on a shift is where most issues arise between mining companies and their drillers. The longer it takes to resolve those issues, the more likely they are to put a strain on the relationship, even when no one is at fault.
Timesheets aside, Lantern makes it easier for smaller drilling companies to scale up and successfully manage multiple projects at a time. According to Konst, the expansion and subsequent contraction of these companies happens more often than you'd think. "We see smaller drilling companies grow with a large project, bringing on more rigs and crew as it progresses. Everything's fine. But when they try to take on two or three projects at once, the paperwork buries them, and they get sent back to where they started." By enabling these smaller companies to manage all of their projects in one place and expediting everything from timesheets to invoicing, Lantern was built to take those growing pains away.
For larger drilling fleets, Lantern's value appears to grow exponentially. From their Roundup feedback alone, the team was surprised by the number of large drilling companies who were willing to share their own pain points, quite candidly. As varied as the feedback was, it all seemed to point to the need for better tools.
There were drillers who continued to rely on a mix of complex spreadsheet formulas and Google docs to manage large projects around the world, leaving head office to decode it all. Others were struggling to standardize, having passed the burden of solving these issues to their regional offices – netting entirely different documents from different parts of the world. On the other end of the spectrum, a few drillers were desperate to get out of their "enterprise class solutions" due to the crippling costs involved, while others admitted to losing millions of dollars while trying to develop a software solution of their own.
"It's still the wild west out there," comments Sonnichsen. "Drilling companies are always innovating on the hardware side, but they can't seem to access the tools they need on the software side, much less at a price they can afford. So they jerry-rig whatever they can to make it work."
With that in mind, Lantern set out to achieve a feat that none of its competitors have managed to pull off: openly advertised, completely transparent pricing. For smaller operations with 10 active rigs or less, the cost amounts to $10 per timesheet. In the 11-40 active rigs range, the price drops to $8.50 per timesheet. From 41-99 rigs, this drops even further to $7 per timesheet. And for companies with over 100 rigs in active operation, the price is just $5 per timesheet. "Considering the thousands of dollars that every timesheet is worth to both drillers and their clients, the cost of Lantern is a fraction of a fraction of a percent," says Konst. "For a superior solution that's ready out of the box, we think it's a hard deal to pass up."
For mining and exploration companies looking to unearth their next big deposit, Lantern's price is even less complicated. Because it's free.
"We thought about the exploration company and what they're dealing with," says Konst. "For them, a lack of information is bad at best, but potentially catastrophic at worst. A single season of bad communication and cost overruns can spell the end for these companies. So if their drillers are the ones providing the data that makes Lantern possible, our only ask of the explorers is that they make this possible for themselves."
For an exploration company to make use of the software, all they need to do is reach out to Lantern. The company provides explorers with a link to log in, then it's up to them to invite drillers to their project. Once online, drillers can send timesheets to explorers for review and approval, while the latter is given access to real time progress tracking, from metreage to costs. It's a win-win for both.
Mining and exploration companies can avoid cost overruns before they happen, while projecting drilling costs with absolute precision. The addition of a projection calculator allows them to see how they can reinvest savings, from adding a new rig to starting a new hole. What's more, the complete elimination of blindspots can help to identify issues before they become problems, approve timesheets quickly and easily, and identify efficiencies that lead to better decisions – following projects in real time, while effortlessly running reports against every milestone and cost.
"If we were to ask anything of the mining and mineral exploration companies involved," says Konst, "it would be to trial this software on their next project. Operating at this level of transparency is possible, it makes both drillers and their clients run better, and the alternative isn't something that the industry can sustain for much longer."
Lantern formally launches in mid-March, but many drillers, mining and mineral exploration companies are already scheduled to trial the software. If you'd like your company to be among them, visit DrillwithLantern.com and sign up for their free demo.